William Browder Lee Tombstone
By Tommy Roberts - 25 Aug 2019
Nita (Lancaster) Bryan, gg-granddaughter of William Browder Lee, has been busy for the last few years trying to reconstitute the Old Hird Cemetery, in Pontotoc County, Oklahoma. William Browder Lee is buried there in an unmarked grave. William's wife, Miranda Roberts (daughter of Joseph Roberts) is buried in the Lee Cemetery in Boma. Since the Old Hird Cemetery had been overgrown and thought lost, a memorial marker for William Browder had been placed next to Miranda in the Lee Cemetery.
However, through Nita's efforts, the Old Hird Cemetery has been reclaimed. We plan to erect a tombstone for William Browder Lee in the Old Hird Cemetery at a date in October. Date and details to be announced soon.
For now, we are letting everyone know of the plans so that they have the opportunity to make input into the effort. Our tombstone will have
LEE
WILLIAM BROWDER
b. 19 JUN 1826
d. 14 FEB 1909
If you have any input into this effort, please contact me via the email button on the homepage of this website. All inputs are welcomed. I am particularly interested in being in contact with Glenn Lee who was responsible for placing the memorial rock at the Lee Cemetery. I have been unable to track him down although I understand he is in the Edmond, Oklahoma area. If anyone has contact information for Glenn, please let me know or ask Glenn to contact me. I know Glenn cared enough to make the effort of erecting the tombstone in the Lee Cemetery, so I'm sure he would like to be involved in this effort as well.
Thanks again to Nita who has put in much effort to reclaim and protect the Old Hird Cemetery. Without her it would now be totally and permanently lost.
Save the Date - 11 Oct
William Browder Lee Tombstone
By Tommy Roberts - 30 Aug 2019
Updated w/additions - 31 Aug 2019
Updated w/more additions - 3 Sep 2019
Thanks for those who are adding information to this article. The more we piece together now, the more we can preserve for later generations.
William Browder is the son of Richard Lee and Mary Stacy. He married Marinda Roberts, daughter of Joseph Roberts and Rachel Carter. William and Marinda had 10 kids. William and some of the children converted to the Mormon faith while Marinda and the other kids did not. William and some of the kids eventually migrated to Utah with some stopping in Oklahoma. Marinda and the other children either stayed in Tennessee or went to Oklahoma. The question of faith became a big issue with the family and caused some estrangements within the core family and into their descendants.
In the end, Marinda stayed in Tennessee and was buried in the Richard Lee Cemetery when she died in 1900. William had been in Utah but came back to Oklahoma to stay with kids/grandkids. He died there in 1909 and was buried in the Old Hird Cemetery northeast of Ada, Oklahoma. The Old Hird Cemetery was not maintained over the years and was almost "lost". Through the efforts of Nita (Lancaster) Bryan, gg-granddaughter of William and Marinda, the cemetery has been reestablished and is in the process of being cleaned up.
SAVE THE DATE:
On 11 Oct at 10 am we will place a tombstone at the cemetery for William Browder Lee. There is no official address for the cemetery but it is located immediately behind the home at 12178 CR 3570, Ada. Following the placement of the tombstone we will adjourn to JD's Restaurant in Ada for lunch and visiting. JD's is located at 911 N. Broadway Ave A in Ada. I hope all the cousins in Ada will plan to attend this event. As you probably know, many families migrated to Ada from here in Putnam County.
They include:
Lee, (Haggi & Enos-1908, Finey-1912 married to Mose Whitehead, George Richard-1918, Angeline-1920 married to Tom Phillips)
Jared (Thomas-1913)
Sliger (Andrew-1919)
Roberts (Hily-1919)
Phillips (Tom -1920)
Bryant (Clayborn, wife, kids, & sister Martha) Departed Mine Lick Creek in 1900-1901 and went to Texas. Then, between 1910-1920 they hung a right and went up into Pontotoc County, Oklahoma with the other families from this area. Clayborn's wife was Mary Frances Thomas who was a 2nd cousin to Francis Marion Roberts. Mary Frances Thomas was granddaughter of Mary Roberts who is thought (not proven) to be a sister to our Joseph.
The "story" is that the Bryants were caught making moonshine and instead of showing up for their court date, they went to Texas. NOTE: I am not saying that is true, I'm just saying that is a story I was told.
In Clayborn's affidavit in a Civil War pension application, he states that he lives within sight of Francis Marion Roberts.
These families are all related and have been populating the Ada area particularly for the last four-five generations. Much of the Ada population have roots in our area of Tennessee. Perhaps the current generations don't even realize they are cousins with each other. This will be a good opportunity to meet cousins you might not have even known you had living right next to you.
We will also be doing "clean-up" at the cemetery on 10 Oct. Of course you are all invited to that as well. :o)
If you have any questions regarding the details, please email me at the email tab above. Also, see related story in the archives.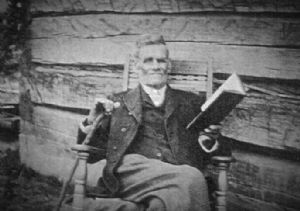 William Browder Lee - perhaps @ 1900