Remembrance Service for Lorraine Roberts
By Tommy Roberts - 20 Oct 2019
A remembrance service for Lorraine Roberts was held at the Heritage House at 11:00 am on Saturday, 19 October 2019. After the service, her ashes were interred in the New Home Baptist Church Cemetery in Boma, Tennessee near her parents, grandparents, aunts, uncles, and many members of her extended family. After internment, family gathered for lunch and visitation at the Heritage House for the afternoon. It was a wonderful service and a great time of family visitation. Lorraine's complete obituary is posted below.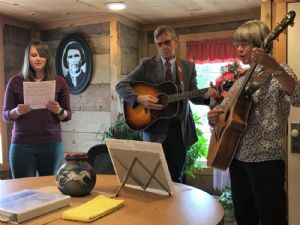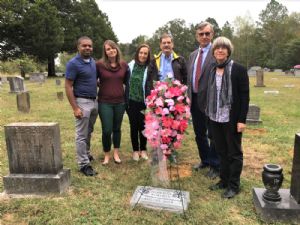 Obituary
Lorraine Roberts "Lori"
By Victoria "Vicki" Swank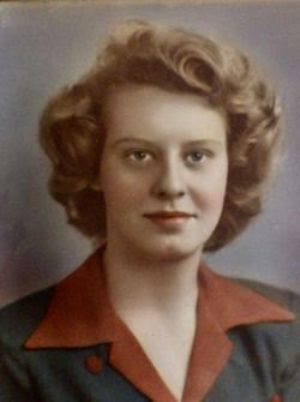 Lorraine Roberts "Lori," age 91, passed away Thursday, August 15, 2019 in Katy, Texas. Lori was born on September 11, 1927 in Dearborn, Michigan; daughter of the late Walter McKinley Roberts and Bessie Mae (Vaughn) Roberts originally of Boma, TN. After her mother passed away early in her life, she was blessed a loving step-mother, Vinnie Vaylene (Lindsey) Roberts.
She was married to the late John L. Swank of Eaton Rapids, Michigan at the Mount Olivet Methodist Church in Dearborn, Michigan on 23 July 1949; they had two children.
She attended Fordson High School in Dearborn, Michigan, graduating in 1945. While in High School, she was the captain of her swim team and an avid swimmer. In earlier days, she had been an excellent roller skater; participating in singles and pair skate-dancing events. She had been an active member of the First United Methodist Church of Midland, Michigan and a valued member of the choir. She also sang with the Sweet Adelines. She was an expert cook who delighted in creating a variety of meals for friends and family. She was an accomplished crafts-person who could sew, knit, arrange flowers, create floral designs, and decorate; she had a good eye for color and design. She was always beautiful and elegant. Her friends appreciated how Lori chose her words carefully and spoke wisely and thoughtfully. She had a warm and outgoing personality. She always had a loving cat hugging her ankles and her cat Jo-Jo misses her.
Lori lived an extremely long and satisfying life and passed away peacefully about 30 days after suffering a stroke. She is survived by her son Robert (Ellen) Swank of Houston, Texas; daughter Victoria (Larry Gandy) Swank of Mobile, Alabama; and granddaughter Emily (Daimien) Burks of Cypress, Texas.