By Angela (Roberts) Stout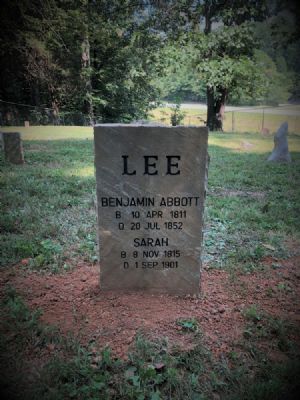 A tombstone has been placed in the Richard Lee Cemetery for Benjamin Abbott Lee and his wife Sarah "Sallie" Roberts.
Benjamin was born 10 April 1811 in Lincoln County, North Carolina. His parents, Richard Joseph Lee and Mary (Stacy) Lee, are buried in the same cemetery. Benjamin died 20 July 1852 in Jackson County, Tennessee. Sallie was born 8 November 1815 and was the oldest daughter of Joseph and Rachel Roberts. Sallie died 1 September 1901 in Boma, Tennessee. Both Benjamin and Sarah's parents were pioneers of this area of Tennessee.
Benjamin and Sarah were married in 1832 in Jackson County, Tennessee and had four sons and one daughter. Sons were Joseph Richard Lee, William Lowery Lee, Benjamin Dies Lee and Ausborn "Auzie" Barnett Lee. Their one daughter was Matilda Jane Lee.
There are many other "unmarked" graves in this cemetery. They have only a limestone rock or a slate rock. If anyone has any idea of who might be in these graves, please let us know. We would like, as much as possible, to ensure our ancestors are honored as well as can be. Thanks.