Miller's Trace
By Angela Stout 9 Dec 2019
In an effort to encourage settlers to move west into the new territory of Tennessee, in 1787 the state of North Carolina ordered a road to be cut to take settlers into the Cumberland Settlements - from the south end of Clinch Mountain (in East Tennessee) to French Lick (Nashville). A hunter, Peter Avery was selected to direct the blazing of this new trail through the wilderness. In 1787, the Assembly of North Carolina provided that 300 soldiers would be available for protection at the Cumberland Settlements. These soldiers assisted Avery in laying out the "Trace", each soldier being paid with a land grant of 800 acres for one year's work. A 10 foot wide trail was cleared, and in that year 25 families traveled along the new road. By 1788, the "Trace" was still merely a rough trail marked by trees scored (or "blazed") to guide the pioneers and travelers. For several years, only pack horses could follow the rugged trail, and journals of many travelers along the Trace detail hardship encountered as they journeyed for several days to make the 300 mile trip. At this time the Trace was called the "Avery's Trace", and sometimes referred to as "The Wilderness Road" or "North Carolina Road". This Trace was the principal road used by settlers travelling from the Knoxville area to the Nashville area from 1788 to the mid-1830s. From Avery's Trace, other traces were cut to lead settlers into the vacant land. One of those traces was called the "Miller's Trace" and is located right here along Mine Lick Creek.
Today I hiked Miller's Trace with my dad. From the Joseph Roberts Cemetery, you look up the bluffs in front of you. Miller's Trace runs along the top of those bluffs.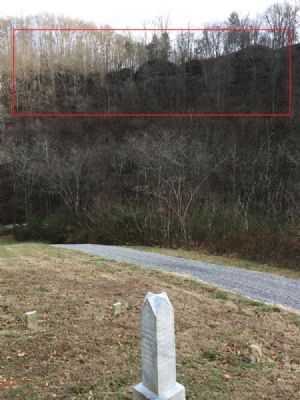 Miller's Trace outlined in red while looking up from Joseph Roberts Cemetery.
We followed Mine Lick Creek to the old road up to get on top of the bluffs. It was approximately .68 miles to the bluff that overlooks the cemetery.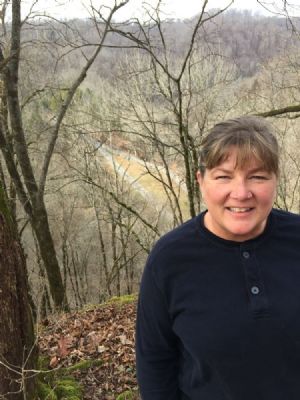 Joseph Roberts Cemetery while standing on Miller's Trace bluffs.
We continued to walk Miller's Trace as far as we could and enjoyed sharing stories of our ancestors who lived in that area. Here is a map of Miller's Trace. We do not know where Miller's Trace actually begins and ends. We only know that our forefather's called the trail that ran along the bluff above the cemetery, Miller's Trace. We speculate that the trace ran from Mine Lick Creek to the road that went from Sparta to Carthage, but that is only speculation.
Speculated Miller's Trace map.
The old road that goes along Miller's Trace would have been the road that Francis Marion Roberts would have taken to get his mail from Pine Fork Post Office. Additionally, some land deeds list Miller's Trace as a reference point.
So, does anyone know who is the Miller that blazed Miller's Trace? It appears Frederick Miller and his 3 sons were the first Millers to file land grants in Jackson and White Counties.
Frederick b. 1760
Jacob b. 1792
George b. 1794
John b. 1800
Frederick filed the first grant of them all in 1808. They all continued to file grants for several years. Frederick is in the 1820 census but not the 1810 or 1830. Supposedly, he died in Ohio in 1835. Seems he might have been a pioneer and land speculator, not stopping long enough to actually farm. Good candidate for blazing the Miller Trace. No other Millers filed grants before 1820.
The land at the top of the bluff where Miller's Trace runs was, at one time, owned by Lindsey Vickers. Lindsey was a member of Company I, 5th Tennessee Cavalry and was killed in the Battle of Dug Hill in 1864. Henry Roberts (Uncle Tinker) married Lindsey's daughter, Sarah, and the land came into Henry and Sarah's hands at some point. Henry and Sarah had a daughter, Melinee, who married Jackson Herron, son of Gabriel Herron and Martha Roberts (stay with me). The land was owned by Jackson and Melinee during my father's early life. They still have descendants who live in this area. Perhaps they know more about the Miller's Trace? Most of Lindsey Vickers' original land is now owned by two parties. Thurman Rodgers of Chattanooga owns 160 acres and Putnam County owns 163 acres. Putnam County's portion contains the old Putnam County landfill.
If anyone has any knowledge of Miller's Trace, please let me know. We would like to round out all the knowledge we can about this historical pathway blazed by the early pioneers.