Family Bible
Written By Angela Stout March 2018
As I have been researching and studying our Roberts genealogy, it is informative when there is actual documentation that provides important information. However, documentation is sometimes hard to find. Most states began birth certificates around 1850s and Tennessee did not begin keeping birth or death records statewide until around 1908. The United States began keeping census records in 1790 and has taken a census every tenth year since then. Often times, tombstones and church records can provide information. But there is a source that can provide vital information…and that source is the FAMILY BIBLE! In a time before the civil registration of births, deaths, and marriages, the Family Bible was the place to keep a record of family life events. Even though such events may have been recorded by the church, the family Bible was a personal record that could move with the family and be passed down generation to generation.
When the United States began issuing delayed birth certificates, you will often see the Family Bible listed as their source for the information. For example, here is one of our relatives where his delayed birth certificate listed the Family Bible as a source for the information submitted for his birth certificate.
The family Bible is the cherished book of the gospel message and it also might contain a firsthand, handwritten account of their family's genealogy.I find it insightful that early generations chose the word of God to contain their own family history and for some families, it might have been the only book they owned.
My father has the Clavis and Frances Bible (pictured below) and this leads me to the point of this month's story…which is a question…where are our Family Bibles? Where is the Winfield Scott Bible? Where is Hizer Roberts or James Grant "Jim" Roberts or Harmon Sherman Roberts…our Family Bibles have to be out there somewhere! We don't want to start a family fight but wouldn't it be great if we could share these Bibles with our own family members at the Descendants of Joseph Roberts Reunion? If you have one of the family Bibles, would you consider bringing it to the reunion for us to view? Or you could bring a copy of the family record inside the Bible. If you have a phone or camera, maybe take pictures to bring and share.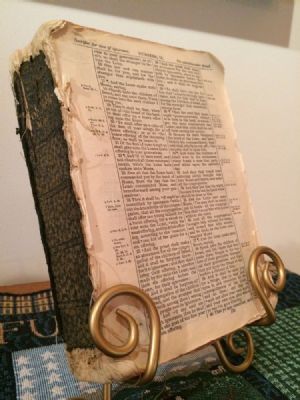 Let's be careful not to allow these precious heirlooms to be lost…the Family Bibles were so important to our ancestors and we should cherish them!
Here is a picture of the Clavis and Frances Roberts Family Bible. It is tattered, torn and has no cover but what a treasure!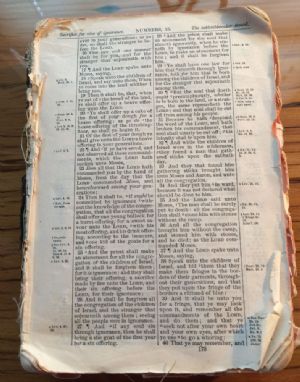 Here is a picture of family history handwritten in their Bible.