Louisville Cousins' Lunch
By Tommy Roberts - 28 Sep 2019
Gracie and I were priviledged to have lunch with our "Louisville Cousins" today. We met at the Outback in Louisville and enjoyed a long lunch.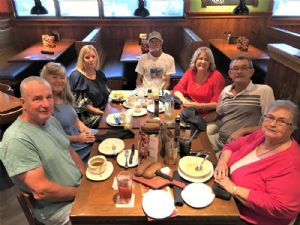 In the picture above, left to right, is me and Gracie, then Lisa, Steve, Sheryl, David, and Peggy.
Lisa is the daughter of James Raymond Roberts. She and Sheryl are first cousins through their grandfather, James Calvin Roberts. This of the Joseph Denton Roberts line. Sheryl's mom is Gladys Marie Roberts. David is Sheryl's husband, one of those "married in" relatives. :o)
Peggy (Roberts) Ashabranner is the aunt of Michael Roberts who is our closest Y-DNA match. Peggy is the genealogist for that particular line which is from James M. Roberts of Rockcastle County, Ky. James M. is her "dead-end" as Joseph is ours. But, we know that James M. and Joseph have a common ancestor. We just have to figure out who it is. Peggy and I are working on that but it is slow going.
In any case, we had a great time getting more acquainted.