The Impact of the Civil War
Written By Angela Stout January 2019
For the past couple of months, we have reviewed the descendants of Joseph Roberts' involvement in the Civil War. It has been a very factual look at the who, the what and the when of their involvement based on military documents and pension affidavits. This month's article digs a little deeper and tries to pair the factual information with the impact to their lives. The email attachment provides a Civil War timeline from 1861-1865 and a table with the descendants of Joseph Roberts' involvement. Predominately, the descendants of Joseph Roberts served in Union 5th Tennessee Cavalry, Company I. The upper level of the timeline captures the movements of Company I derived from the documented muster cards. The lower level highlights our ancestors' involvement.
To set the picture, realize that Tennessee was not unified for either Union or Confederate cause. Families disagreed and most were forced to make a choice. In the Spring of 1861, Civil War begins and Tennessee secedes. Within a year, the Confederacy implements a draft but not everyone in the Mine Lick Creek area supported the Confederate cause. This forced a dilemma…join the Confederates who were drafting men to their cause; volunteer for the Union cause; or hide out and try to live your life without joining either efforts. Men went into hiding; families moved to avoid the war; and some made the decision to go ahead and volunteer for the Union military. There must have been some serious discussions in November 1862 because a large group of Mine Lick Creek men left for Nashville to enlist with the Union. On 24 November, Henry Roberts, brother Francis Marion Roberts, brother Joseph Denton Roberts and Henry's son, Joseph M. Roberts enlist in Nashville along with several other men from Mine Lick area such as John Bryant, George Washington Elmore Jr, John G. Richardson, Riley M. Richardson and Francis M. Richardson. Going to Nashville would have been dangerous because the Confederates would have been trying to capture all able men to sign them up for the Confederates. These men must have been poorly nourished, weakened and susceptible to diseases because almost all those from Mine Lick ended up in the hospital at some time during the war. Though they were tough, marching long distances in cold, wet weather would have its toll. Within one month, Joseph M. Roberts dies of chronic diarrhea and soon after, his father Henry Roberts dies from measles. John Bryant dies of chronic diarrhea in May 1863. Statistics show that 176 men of 5th Tennessee Cavalry died from diseases versus 69 men who died from combat wounds.
Meanwhile, back at home…some men continued to try and avoid Confederate conscription. Starting in March 1863, the Union began their draft. Both sides were competing to get men to enlist for their armies by all means, including threats of death. Consider Joseph Richard Lee and brother William Lowery Lee being forced into Confederate Army. We have some insight to their situation from the pension application of Joseph Richard Lee. From his own words (no spelling corrections), "DEPOSITION OF Joseph R. Lee On this 15 day of July, 1896, at Boma, County of Putnam, State of Tenn, before me, L.J. Taylor, a Special Examiner of the Pension Office, personally appeared Jos. R. Lee, who being by one first duly sworn to answer truly all interrogatories propounded to him during this Special Examination of aforesaid pension claim, deposes and says: I am 62 yrs old: Farmer: Boma, Tenn. I was a pvt. Co. C 1 Tenn. Mtd. Inf. I enlisted in this service in March 1864, and was discharged in Aug, 1865. That is all the service I had in the U.S. Army. I served a while in the Confederate Army. I was conscripted and taken into the Confederate army. I went into the Confederate army in June, 1863, as well as I now recollect. I served in the Rebel army about 6 or 7 weeks. I served in what was generally known as Hamilton's Battn. Of Confederate Calvary. I think it was called the 37 Ky. Regt of Cav. C.S.A. I understood that Dick Morgan was Col. Of the Regt, but he was not with it while I was there and it was then commanded by Lt. Col. Oliver Hamilton. I was first in a company commanded by Capt. Norris but I do not know the letter of it. There was another Co. commanded by Jos. Shaw. Jink Helms, Jordon Perkins, and Luke Gillens were in Hamilton Battn. while I was there. How did you come to go into the Confederate Army? Sometime before they took me off they had been mustering us around here and had notified a lot of us to report to McMinnville for the purpose, we supposed, of going into the Confederate Army. That notice was given by the officers where we were mustering and drilling. They would have us all to meet at Cookeville and muster and drill and they called us home guards I think. And it was there that we were ordered to report to McMinnville. After they ordered us to report to McMinnville I began laying out in the woods, and lay out until they caught me. I had come in home to kill a hog for my wife the day they came and captured me. Myself and my brother and Wm. Shaulks who lives some place out West, had it arranged to run off and go to Ky. when they caught myself and my brother. They kept me under guard after they caught me until we got to camps which was 2 or 3 days. The night we got to camps there were several men said they would answer for me not running away, and they did not keep me in the Guard House that night. The next day we were all sworn into the service, and given a few days furlough to come home, and instructed to report back to the same place at the expiration of our furlough. I came home and stayed until my furlough was up and then went back. I went back of my own accord, and was not taken back. I may have been home and back a twice or two after that before I finally left them, I cannot tell now. Q. Why did you finally leave Hamilton?s Battn? A. They were starting on a raid up about Hillham, and I was sick and not able to go and Lt. Col. Hamilton ordered me to go to a mans house in the neighborhood and I staid aroud there a while and then I sent word to my wife and she sent after me and I came home and staid a while, and after I had been at home a while Luke Gillam came after me and started to take me back to the army, but I was still not well and Gillam allowed me to go back home and stay and I went back and never joined the Rebel army any more. Q. Why did not not you run ofnd go to Ky. when you came home on furlough while in the Confederate Army? A. Well the country was so full here of Rebels that I was afraid to try to go off. Q. At time you went into the Rebel army would you have rather gone to the U.S. Army? A. Yes I would, but after they got me I was afraid to try to run off. We just could not do any better around here than to go into the Rebel Army. Once before I went into the Rebel army. I had enlisted to go into it, because I did not think I could do any better, but that company never went out. That was before the conscript was passed and a man came around making up a Co. and I enlisted but the Co. never organized and went out."
An oral history story has been passed down that Henry Roberts' wife, Martha "Bell" (Whitefield) Roberts, moved to Rough Creek with all the children because of the Civil War. Bell had all the kids except the oldest, Joseph M. Roberts. Joseph and Henry followed separately. The story is that Joseph and Henry were being sought by some raiders and tried to torture the younger kids to find out Henry's location. The two youngest children, Dolly and George, were strung up by their thumbs trying to make them tell where their father and older brother were. They all made it to Rough Creek with Henry and Joseph followed. After settling their family, Henry and Joseph returned back to Mine Lick to join the men going to enlist with the Union on 24 Nov 1862. Neither saw their family again.
You have read previously about the Mine Lick Gang. They were not the only gang/guerrillas in this area. Both sides were ruthless to each other and to the families in this area for side they served. Families were harassed, robbed and killed by both Union and Confederate forces, along with thieves and bushwhackers. John Harrison Roberts was part of the Mine Lick Gang and depending on your position they can be viewed as defenders or as criminals. Women were left with the responsibility of protecting their children and homestead under constant threats. They had little to no resources and very few options. Those who lost their husbands to the war were left to their own means to survive.
Dealing with these gangs/guerrillas led to the Battle of Dug Hill or Calfkiller and the largest loss of lives to 5th Tennessee Cavalry, Company I. In 1864, middle Tennessee was under Union control but there were Confederates groups hiding out in the area. The Union was sent into the Sparta area to seek out and mop up those Confederates. The 5th Tennessee Cavalry was commanded by Colonel William B. Stokes of DeKalb County, Tennessee.
In February, one of its assignments was to clear White County, Tennessee of the guerrillas operating in the county. Many of Colonel Stokes' men were from Tennessee and for them it was their home. On Feb. 22, 1864, a scouting party of Company I, K and L of the 5th Tennessee Cavalry lead by Captain Ezekiel W. Bass were ambushed by the a force lead by Colonel Hughes and the guerrilla Champ Ferguson in White County, Tennessee. The fighting was brutal. Neither side was giving quarter, so it was a fight to the death. While most documents consider this fighting a skirmish, the word would have gotten out quickly to the families on Mine Lick Creek! Consider what agony families must have felt waiting to find out who from Company I was killed or hurt. Company I lost three men from Mine Lick Creek: Sgt John G. Richardson, Private Riley M. Richardson and Private Lindsey Vickers. The story is told that John G. Richardson and Riley M. Richardson were killed in a battle "up" the creek. As the company made their way down the creek they dropped the bodies off here. They are both buried in the Richardson Cemetery with Sarah Richardson (Francis Marion Roberts' mother-in-law).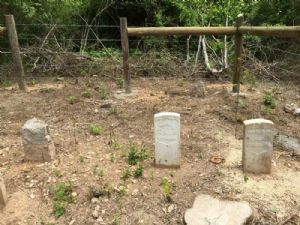 John G. Richardson and Riley M. Richardson tombstones.
Lindsey Vickers tombstone.
Another story that has been passed down is that five Company I soldiers from Mine Lick Creek were going to Bunker Hill to get whiskey. Francis Marion Roberts, also of Company I, told them not to go over there for whiskey because there were too many Confederate sympathizers in that area and it was dangerous. Four of the five were killed including Sgt John G. Richardson, Private Riley M. Richardson and Private Lindsey Vickers.
The Civil War was painful to everyone! Tommy Roberts will be sharing more of our Civil War history at our 2019 Roberts Reunion…hope you will be able to join us. Please SAVE THE DATE FOR THE ROBERTS REUNION! 31 MAY - 1 JUNE 2019!!!!