Hird, Oklahoma Activities
By Tommy Roberts - 13 Oct 2019
Gracie and I were in Hird, Oklahoma (near Ada) last week. Our activities centered around helping clean-up the Hird Cemetery and erecting a tombstone for William Browder Lee. William is the husband of Marinda Roberts, daughter of Joseph Roberts. We were also delighted to visit several cousins while in the area.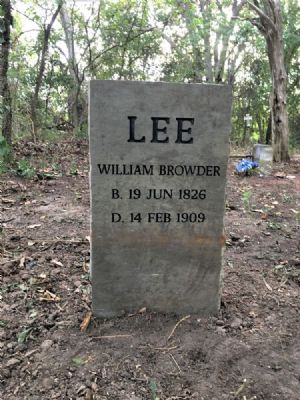 Hird was a small village near an east-west wagon road. A north-south wagon road also ran nearby. It had a post office until 1904. The town was surveyed and "laid off" in 1902 as a town of the Chickasaw Nation. A cemetery was laid off as part of this survey. I need to do more study of Oklahoma history to fully appreciate the evolution Hird took from its earliest years until Oklahoma became a state in 1907. As for a brief summary, Hird was located in the Indian Territory until the Oklahoma Territory was incorporated in 1890. In 1907 the Oklahoma Territory was joined with the Indian Territory to create the state of Oklahoma.
The cemetery is surrounded by a new housing development. It does have easements on the north and south sides so access is available. Many kudos to Nita (Lancaster) Bryan who began the effort to reclaim and clean-up the cemetery before it was totally lost. Nita is the great-great-granddaughter of William Browder Lee. It has been a tough two years for Nita as assistance from the local government has not been robust. Her perseverance has paid dividends and great progress has been made towards preserving this heritage for future generations. She did get assistance from the Department of Culture and Humanities of the Chickasaw Nation. Mark Micozzi is a research assistance in the Cemetery Preservation Program of that Department. He came out and marked, photographed and charted with GPS every tombstone in the cemetery. Unfortunately, he has not proven that any Chickasaws are buried in the cemetery so it is a lower priority within his preservation program.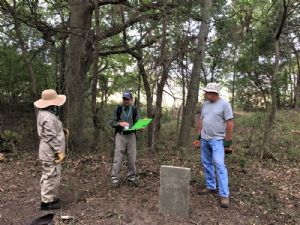 Nita, Mark, & Tommy
As for clean-up, Nita spearheaded the work on Tuesday-Thursday. In that time she got a culvert put in allowing ingress/egress to the easement. We bush-hogged the easement. And, as you can guess, the majority of the remaining activity was cutting and dragging brush. One of my favorite pass-times. We also erected the tombstone for William Browder Lee.
On Friday at 10 am we had a short memorial service around the tombstone followed by a luncheon at JD's Cafe. You know we had to get the eating in there somewhere. We had 15-20 of our cousins there for both the service and for lunch. Enjoyed visiting with the Sliger, Phillips, Lee and Roberts families. The common ancestor that joins all those families into cousin-hood is Joseph Roberts.
How did William Browder Lee come to be buried in this cemetery with no other relatives? It began in the 1880s when William converted to the Mormon faith. This resulted in him traveling to Utah where we know he was at in 1888. His wife, Miranda Roberts, did not share his faith and did not join the LDS church. She remained in Tennessee, died and is buried in the Lee Cemetery in Boma. In late 1908, the first Lees left Mine Lick Creek/Roberts Switch/Boma area and went to Oklahoma. The first two were Haggi and Enos, grandsons of William Browder. Shortly after their arrival in the Hird, Oklahoma area, William Browder decided to return from Utah to Tennessee. Unfortunately, he made it to Hird where he got sick and was unable to travel on to Tennessee. He died there in Feb 1909 and was buried in the Hird Cemetery probably because it was the closest cemetery. Our oral tradition is that he was living with his grandson, Haggi, when he died.
We will accumulate all the pictures associated with these activities and post them in a gallery here on this website. Keep your eye out as we add to this gallery over time.
As you know, cleaning up and maintaining a cemetery is like building a house. It is never truly finished. So, there is more to do. More brush clearing and it would be good to fence the area. We would also like to learn more about the unmarked graves in the cemetery and help members of those families mark their ancestors graves. If any of you would like to be involved in these activities, please let Nita know.