Elmore-Richardson Cemetery Candlelight Service
By Tommy Roberts - 28 Sep 2019
A candlelight service was conducted at the Elmore-Richardson Cemetery last evening, 28 September. It was a very peaceful, wonderful fellowship. Most attendees were from the family of Arvel "Slick" Herren and his wife, Fannie Whitehead. Arvel's granddaughter, Tammy is the primary cemetery custodian and ensures that a decoration and a candlelight service is conducted each year.
I truly appreciate Tammy's efforts to keep this cemetery neat and clean. I remember as a young man going to this cemetery and it was completely overgrown. Now, it is fenced, and neat, clean & orderly thanks to Tammy's leadership. Good job Tammy!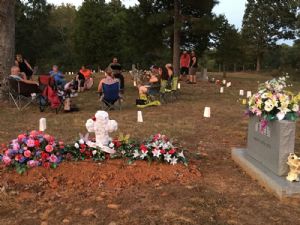 Our closest relative buried here is Sarah Ellen Roberts, daughter of Francis Marion Roberts & Sarah Richardson. Ellen married Mackey Richardson about 1890. No, Ellen is not kin to Mackey - different line of Richardsons. :o) He died in 1902 and Ellen married twice more, but she is interned in this cemetery next to her first husband, Mackey.