Alene Lee and Kenneth Lancaster Story
By Nita Lancaster Bryan 22 Nov 2019
Great Great Great Granddaughter of Joseph Roberts
My parents…Alene Lee and Clarence Kenneth (CK or Kenneth…. his favorite name).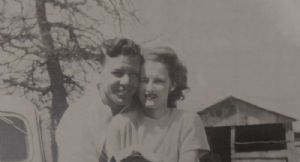 The picture is of my Beautiful Mom and Dad…on their Wedding Day,August 2, 1945.
My father had just returned home from WW II. He had been a POW for 13 months after his
B-24 plane wasshot down by enemy fire on their 6th successful mission to Weiner Neustadt Germany.
His 13-month imprisonment left him and his band of brothers that survived in poor health. Upon liberation May 2, 1945 the now ex-prisoners were given medical attention, food, shelter and clothing.
They had been fleeing the Russians under captivity of their German guards. This occurred during the coldest winter of Germany traveling from late December 1944 until liberation of May 1945. They were without adequate food, shelter or necessary clothing. They were all malnourished and very ill.
He was hospitalized upon his return. He was given the Purple Heart Medal and other medals for his for the service and injuries he suffered.
He returned home sometime in July 1945. He discovered Alene had taken a job in Washington DC after her graduation from Ada High School in May 1945. She and two friends went to Washington DC where they had obtained secretarial jobs. My mother did not know if Kenneth was alive or dead.
After learning that Alene was not in Ada, he took a train to Washington DC. He found her and they were reunited after being separated for over 17months.
They came home to Ada and were joyfully wed, with dear family present on August 2, 1945 in the Oak Avenue Baptist Church in Ada. This was a great day for all after enduring the separation of family during the war.
My Mom (Alene Lee) is the daughter of Haggi and Susie Harper Lee from Boma County, Tennessee. They moved to Oklahoma during the early 1920's. Haggi was a farmer and worked different jobs to provide for his family. Susie raised the 8 children and lovingly cared for them all. I know that she was a wonderful seamstress, a skill my mother demonstrated repeatedly.
My mom endured the widespread hardships of the depression. She knew the value of the dollar. She was a bookkeeper for her first job as she and Kenneth started their life together.
My father worked in a job as a cook for the first 2 years of marriage. He was not happy working in this position and pursued a relative's plumbing business when it came up for sale.
They traveled to California to ask his brother, BF Lancaster and his wife Ann (Henry) to return to Oklahoma to start the business together. In early 1950, the Lancaster Plumbing business began. My father and my Uncle BF were successful business men in the Ada area for over 25 years. Their business hired at least 20 men and they were a vital part of the community in Ada.
My parents loved each other and their extended familydearly. They loved the land and worked their farm, raising cattle, horses, chickens, hunting dogs and large gardens and pecan harvesting. We all participated in caring for animals and working the land and chores that were necessary for food and shelter. It was a wonderful closely-knit family with many cousins involved with each other as we grew up.
This is a brief story of what quickly comes to mind at this time of writing.
Sincerely,
Nita Lancaster Bryan